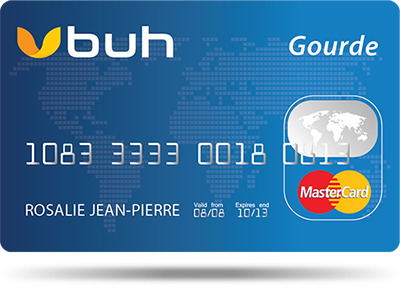 The first international card that offers the advantage of managing payments in one single currency, the Haitian Gourde!
FEATURES AND BENEFITS OF THE GOURDE CARD
Your BUH Gourde Card may be used for your purchases in Haiti and abroad and helps you manage one single balance in Gourde.
Global MasterCard Service, Emergency card replacement in the event of loss or theft with 24/7 assistance available in all languages throughout the world.
Accepted locally and internationally in over 16 million locations throughout the world.
Advance of funds from 500,000 ATM locations throughout the world (terms and conditions applicable)
Annual fee waived for the first year.
Customer Service available Monday through Friday, 8 am to 5 pm, Saturdays from 8 am to 12 pm and 24/7 at 2815-8800, clientele_mastercard@buhmc.com, operations_mastercard@buhmc.com.
CHARACTERISTCS
Annual fee main card: HTG 1,975.00
Annual fee additional card: HTG 1,335.00
Due date for payments: between the 14th and the 16th of each month
DOCUMENTS REQUIRED
Signed application form (available at all BUH branches)
Employment letter / Business license
Bank and other credit card statements for the past 3 months
Valid identification document